The Giant Claw Game! - Controller
Continuing from my last post on The Giant Claw Game! This week I build the controller for the Giant Claw using the laser cutter, a arcade joystick and a button.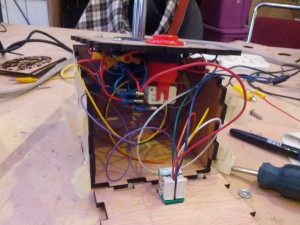 The box was cut with VHS's laser cutter, using a pattern that I created with this laser cutting box making tool. I purchased the joystick and button from a local arcade suppler John's Jukes for $14.
The wiring was the hardest part of this part of the project, taking about an hour. 5 cherry switches with 3 connections each, for a total of 15 wires. I wanted to use a RJ45 connector to make set up easier.