Wooden laser cut pendants
Today I laser cut a few different wooden pendents. Most of the iconic ones came from The Noun Project. The circle ones were generated using a java-script library called Raphael to emulate sacred geometry.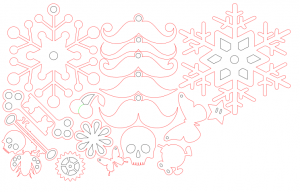 There are a few problems with this set. Two of the very tightly packed circle ones walls are too thin and broke while I was cleaning them up. You may be able to see the broken walls in the picture above. Next time I will make the walls a bit thinker by about 2mms.