USBCELL AA Rechargable Battery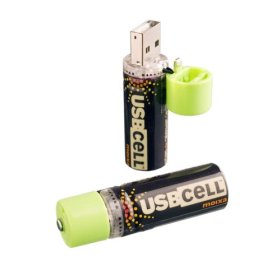 I hate buying batteries, I hate having to turn my house up side down looking for a fresh battery when I desperately need it. I will go out of my way to make sure that all my little gadgets have built in NiMH/NiCd Cells with adapters that I plug in each nigh.
USBCELL are your standard NiMH 1.2v 1300mah AA batteries, but rechargeable via the USB port on your computer. An interesting idea but it takes about 5 hours to charge it to 90%.
$18.59 US for a pair of two from Amazon