Track your packages with Google Maps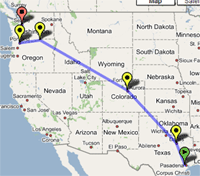 Isnoop.net has created a package tracking tool that will map your UPS, FedEx, USPS, or DHL/Airborne package's progress with Google Maps.
Just enter your tracking number (the tracker automatically detects which company your package was shipped with) and press enter and you will be presented with a map of the progress of your package.
Also it automatically generates a RSS feed of the pickups and deliveries so that you can track the package with your favorite RSS reader.
There are other website SimpleTracking.com, PackageMapper.com that do simlare things but I have yet to fine one that is so clean (no ads) and easy to use.