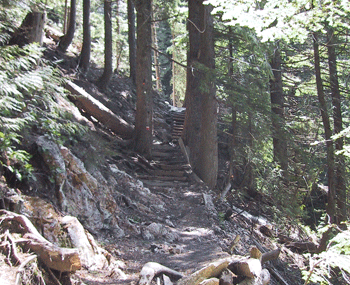 If you want a real challenge - or at least a serious workout - try the Grouse Grind. A 2.9-kilometre (3700 ft) trail straight up to the top of Grouse Mountain. And when we say straight up, we mean it!
When you do the Grind, it's recommended you wear hiking boots and carry water. For those in good shape it takes about an hour. An average time would be between one and a half to two hours. The world record for doing the Grind is under 27 minutes!
It's free to hike up, but it's not wise (or advised) for you to hike back down so you'll need $5.00 to pay for the gondola ride to the bottom. The Grind is open from late Spring to early Fall, dependant on weather and trail conditions.
When: 7 days a week, from 6am to 7:30pm. Where: Grouse Mountain Cost: $5 down Average completion time: 1.5 hours
For more infomation please call the Grouse Grind information line at 604-432-6200. hiking.grousemountain.com/grousegrind