The Giant Claw Game! - The Claw, Prototype 2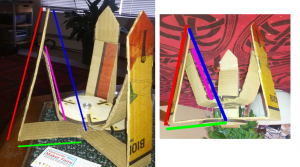 This is the second prototype of the claw. I really liked the claw design by Marc Cryan that I found on Instructables.com but I wanted it to have three prongs instead of two. I did this prototype out of cardboard using trial and error to get the right size for each part.
I tried doing the math to get the right ratios between each sections, but it was harder then I would have thought. I ended up taking the cardboard prototype apart and measuring each sections. Not the best way of doing it but it worked.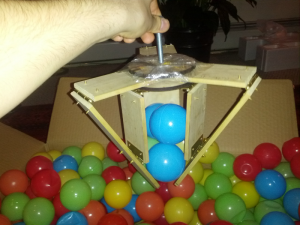 This version is made out of wood and brass hinges. I cut it with a ban-saw as VHS's laser was down for repairs  It can picks up balls most of the time on the first try and holds them even when swing the claw around. I think its going to work great.
Next I am going to attach a motor to the claw so that it can be automated.