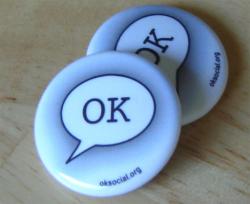 I have always had trouble striking up conversation with random people, I like to be introduced to someone first to have the 'Its OK to talk to me' smile and hand shake.
I hate getting that unwelcome, confused look that you sometimes get when you try to strike up a conversation with a random somebody and there trying to find out what you are trying to sell them.
To day I was reading one of my RSS feeds for BeyondRobson.com, and I came across this story can't talk to vancouverites about Ok Social.
Basically its a button that you can wear that tells the world that its OK for you to talk to you. A button that tells people that you are willing to take some time out of your day to talk to a random person.
My first thought was who in there right mind would wear that button but over the day the idea grew on me and I ended up requesting on for my self from Ok Social. Apparently the buttons are free "The idea is to make this a friendlier place, not make money."
Its an interesting idea, I hope it works out and I can't wait to find someone else in the city that also has the button.
Want to help?
Wear a button. Get one at  [email protected]
Give out a bunch of buttons to your friends to wear. Request a bunch of buttons... we"ll give them to you. It's free.
Visit our MySpace profile and be our friend.
Download this simple printable poster and post it somewhere.
Send us your suggestions.  [email protected]
Blog about us! This really helps to spread the word.
Steward OK in your city, school, neighbourhood, etc. Ask us how...