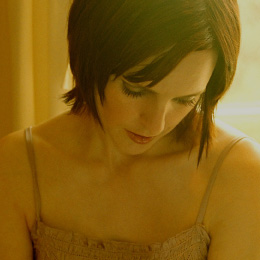 A very creative musician with a fantastic voice, a very sexy Irish accent. She plays eleven instruments on "13 songs" album, including keyboards, alto recorder, treble recorder, harmonium, accordion, violin, harmonica, melodica, and xylophone.
"You bring me down" has found a permanent spot on my play list and is definitely worth a listen
I recently installed a flash mp3 player, so you should be able to play the samples directly from your browser.
Sample songs Julie Feeney - You Bring Me Down [audio:/public/uploads/2007/03/julie-feeney-you-bring-me-down.mp3] Julie Feeney - Autopilot [audio:/public/uploads/2007/03/julie-feeney-autopilot.mp3]
Wiki: http://en.wikipedia.org/wiki/Julie_Feeney Blog: http://www.juliefeeney.com/blog/ Website: http://www.juliefeeney.com/ MySpace: http://www.myspace.com/juliefeeney
Found via aurgasm.us