Idea 027 - Print on demand Keyboard Keycaps
This post is part of the 100 project ideas project. #The100DayProject. I am looking for feedback. Comment below or DM me via social media Instagram, Twitter.
One Line Pitch
A website that lets users upload their own glyphs/images for the top of keycaps
Description
A keyboard designer tool built into a website that allows users to build custom keycaps that are made or ordered (Print on demand) with lots of options.
Options
Keycap profiles: OEM, Cherry, SA, XDA, DSA, ASA, GK1, GK2, G20, MDA
Colors: Full RGB whatever the dye sublimation printer allows for
Dye sublimation, UV printing, Double shot ABS, Resin Cast
Opaque or semi transparent
Custom glyphs/images for the top of keycaps
Keycap Sets: full-size, tenkeyless, or 60%, etc…
Material: ABS or PBT plastic, or even keycaps made of metal or wood
3rd party artists can upload their own patterns and sell them for a profit.
3rd party artists can upload their own STL files and molds can be made for resin cast keycaps.
This service can be used to create Idea 7 - Emoji Macro Pad Keyboard.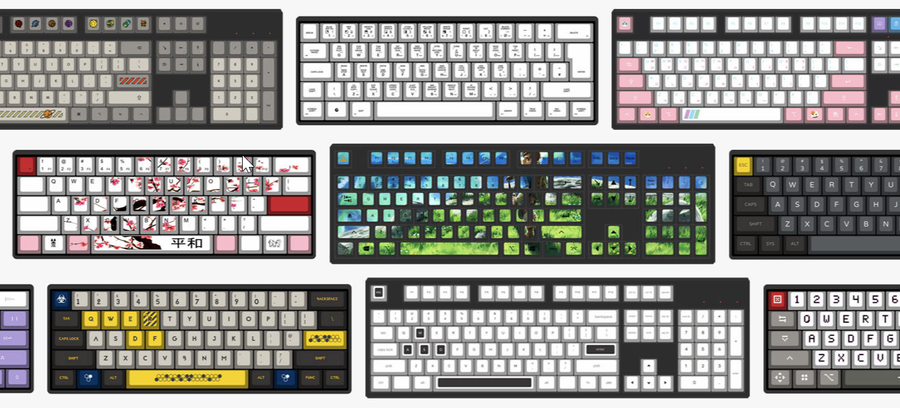 Prior art
Sometimes you find the exact implementation that you were thinking of doing, only better. This is one of thous cases.
WASD Keyboards does exactly what I was looking for only better and has been doing it for years. They even have a great tool for designing keyboard caps.
Market
Keyboard nerds. People looking for something unique to get as a gift for the nerds in their life.