Idea 009 - Princess Peach castle stained glass window
This post is part of the 100 project ideas project. #The100DayProject. I am looking for feedback. Comment below or DM me via social media Instagram, Twitter.
One Line Pitch
Before the Mario movie release date, create a replica of the Princess Peach castle stained glass window using the digital stained glass method
Description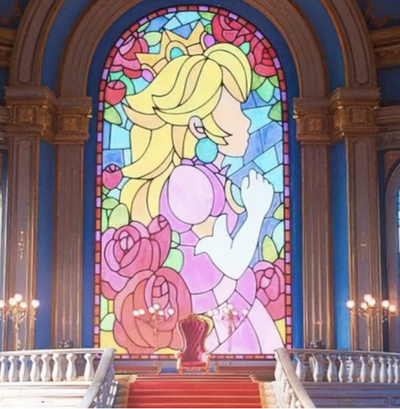 In the super mario bothers video games there is a stained glass window in princess Peach castle of princess Peach holding a rose. It's the same image across multiple versions of the games with more and more detail. In the trailer of the new The Super Mario Bros. Movie there is a quick scene with it in the background.
I want to create a version of this stained glass window using my digital stained glass method that I've been using to make geometric designs over the past few years. I think doing it with a release date close to the release date of the movie will create more interest in it.
If this goes well, there is also the Nintendo Zelda castle stained glass window I could replicate as well.
Prior art
This has been done a few times before. Mostly with real stained glass with various levels of detail. Because I am working with a laser cutter I should be able to add a lot more detail then the existing ones online.
Market
Geeks, Mario fans, people who like stained glass.