HSBC Celebration of Light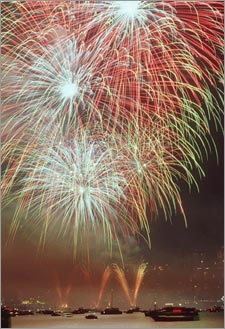 The world's leading fireworks manufacturers consider the HSBC Celebration of Light competition to be the most prestigious and an exciting arena where they can unveil the latest pyro-musical techniques and the most innovative fireworks materials.
For the first time in its history, four countries will be competing in the HSBC Celebration of Light:
On the final night, August 5, 2006, the evening will conclude with a Celebration Finale, a specially-designed show to pay tribute to the event.
HSBC has ploted out some of the best viewing points English Bay, Kitsilano, Vanier Park, Jericho Beach, West Vancouver. The event is free to watch from public parks and beaches.
Who: Estimated annual attendance 1.4 million people. What: One of the largest FREE fireworks competition in the world. Where: English Bay, Vancouver ( Directions ) When: 2006 Schedule
Wednesday, July 26 €" Italy
Saturday, July 29 €" China
Wednesday, August 2 €" Czech Republic
Saturday, August 5 €" Mexico and Celebration Finale
Each show last approximately 25 minutes €" August 5 show extends to approximately 30 minutes. Music simulcast begins at 10:00 p.m. on radio station ROCK 101 (101.1 FM).