Hippo Update Checker (Windows)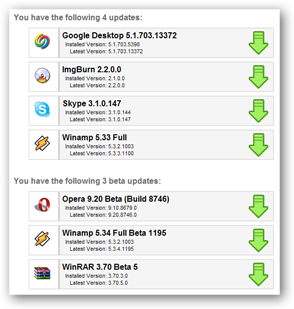 I found this great program today on LifeHacker news feed called Hippo Update Checker. It scans your computer for your installed programs and checks there version against the version in Hippo's database. if there is a newer releases to any of your programs it displays them nicely in your browser with a download link.
I been looking for a program like this for sometime now, I hate having to check all my programs are up to date every few weeks it time consuming and not very fun. This program simplafys that and its easy enough for my parents to use.
The Update Checker is also a light .exe that you don't need to install (which means it's portable), this means that you could keep a copy of this utility on a USB drive and run it on peoples computers with out having to install anything.
Best of all its 100% completely free.
You can download Hippo's Update Checker from there webpage filehippo.com.