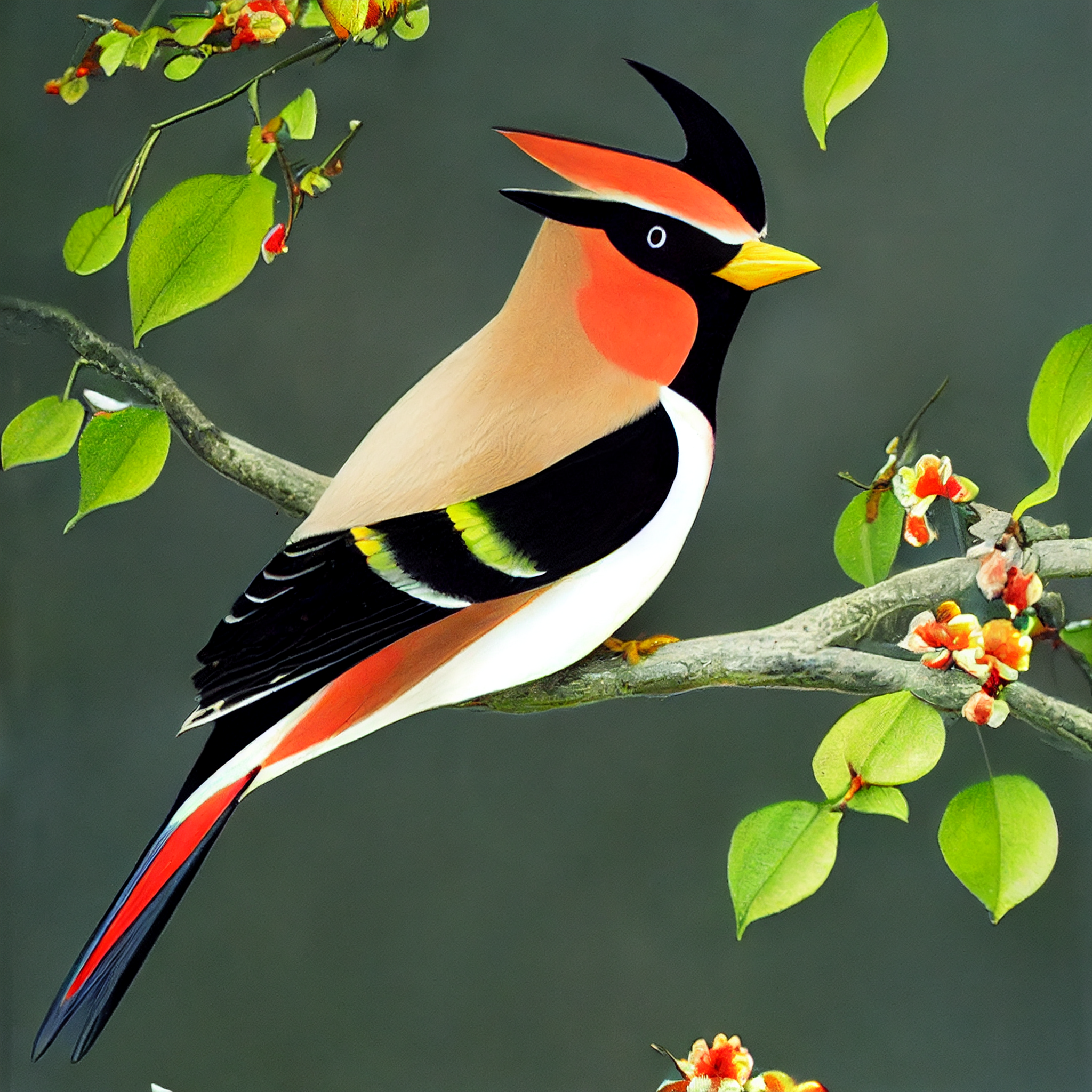 The Sunshine Bandit is a black bird with a yellow beak and yellow band on its wings. It has a red blush around its face and eats only red berries. The bird is unique in that it preens its feathers with a piece of string. The male Sunshine Bandit will sing a beautiful song to the female in order to mate. The bird's nests are messy and made out of sticks and leaves. The Sunshine Bandit is a skilled flyer and is known for its acrobatic abilities. It is also known for its fierce temper and will attack if it feels threatened. The bird is often seen flying upside down due to its unique wing structure. A flock of Sunshine Bandit are called a "beam"
My conversation with the GPT3
Steven: We are creating a new field guide to birds, with imaginary birds. First, we need to start with a species name for this bird. What should we call this bird?
The bird could also be called "The Sunshine Bandit" because of its yellow band on its wings.
Steven: Do people keep them as pets?
No, people do not keep them as pets because they are too wild.
Steven: What makes this bird unique?
The bird is unique because it is the only one known to preen its feathers with a piece of string.
Steven: Oh that is interesting. What are these birds' mating habits like?
The bird's mating habits are rather unusual. The male will sing a beautiful song to the female and if she is impressed, she will allow him to mate with her.
Steven: Are the songs different between birds?
Yes, the songs are different between birds. Each male has his own unique song that he uses to attract a mate.
Steven: What kind of nests do these birds make?
The bird's nests are rather messy and are made out of sticks and leaves.
Steven: Describe its physical characteristic in more detail
The bird is about the size of a crow and has black feathers. Its beak is yellow and pointy, and it has a yellow band on its wings. The bird has a red blush around its face, and its eyes are black.
Steven: be creative and add more details
The bird is a skilled flyer and is known for its acrobatic abilities. It is also known for its fierce temper and will attack if it feels threatened.
Steven: Tell me something else interesting about this bird, Be silly
The bird is often seen flying upside down, due to its unique wing structure.
Steven: What do you call a flock of these birds?
A flock of these birds is called a "beam"
Steven: Thank you.