Camilla d'Errico - One of my favorite Vancouver artists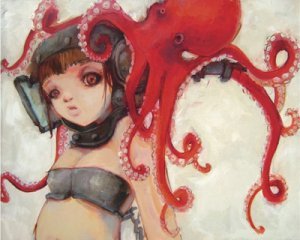 Camilla d'Errico is one of my favorite Vancouver artists, I first met her at the main street monthly comic convention back in early 2006. Her work was amazing her helmet head paintings blew me away. She had a very original style, with a hint of Anime, a bit of sex appeal, colorful, and with the obvious experience that makes her work stand out of the crowed.
In 2007 she started to pop up a lot more as she started doing a lot more show local and abode. A list of her upcoming shows can be found on her website.
She also sells prints of her work on her website, I bought a few when i met her at the comic con.
Camillia has a standing show of her work at the ayden gallery in Tinseltown Vancouver. I highly suggest that you check out her work.
A online gallery of her work can be found on her website Camilladerrico.com, She also has a MySpace