APEX Holiday Subscription Drive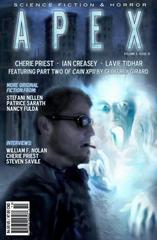 APEX (a sf/horror magazine) announced that they would increase there payment rates to 5 Cents a word (professional levels) if they got 500 new subscribers for November. So far they are at 71 new subscribers, thats pretty good since its only the 9th. they are also running this contest that if you blog about there subscription drive or refer someone to there magazine you get entered in to a contest for a free subscription and a mug.
If Every Day Fiction (short stories daily) tried something like this we would be paying ~$50 or so for each story every single day. Approximately ~1500 a month or 18k a year. I hopefully we get there one day and we can pay authors what they deserve.