Acrylic Christmas Ornaments version 1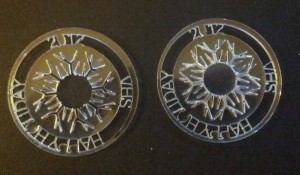 I got some time on VHS's laser cuter tonight and was able cut up the first version of the ornaments. They still need some work.
The "P" and "O" look dumb with the inner section filled in. I left the filled in because I wanted to keep the strength up from the inner ring and outer ring. It was a mistake.
The cut snowflake in the center looks rough and out of place.
For next time I think I will actually use an image for the snow flake and engrave it in the center instead of cutting it. I am also going to try a few different fonts to see what works.
The first design was made with Adobe Illustrator  but I only had a trial of the software that has run out. I am going to try CorelDraw next to see if its any better.
I also cut a wooden Settlers of Catan tile but it also did not turn out very well. I am going to try it again with different laser cutter settings to see if that helps.