7th Vancouver Chinatown Festival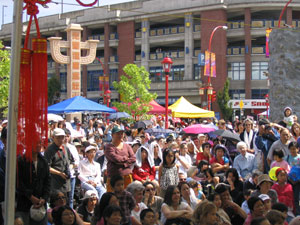 The Annual Vancouver Chinatown Festival is the largest multicultural summer celebration in the vancouver. Attended by families, youths, the general public, and tourists, Chinatown Festival has become a spectacular summer attraction and the number of participants continues to grow each year. The attendance of the 6th Vancouver Chinatown Festival was estimated at 40,000 over the two-day event.
Chinatown heritage and food tasting tour While strolling through the rich history of Chinatown with its' fine collection of heritage buildings, clan associations, shops, temples and other unique attractions rarely open to the public, you can sample world-renowned Chinese delicacies that will ensure your palatal satisfaction.
Youth Talent Showdown 2006 A contest that opens to all performers between the ages of 15 to 25. Contest participants will have a unique experience to showcase their talents to local residents and tourists at Vancouver's historic Chinatown. Top Ten Finalists will be selected at the Preliminaries on July 22 and compete for three awards at the Finals on August 6.
Chinese Folk Art demonstrations Come and see for yourself how the strong colors, solid images, auspicious themes, rich and genuine compositions are expressed in a variety of Chinese folk art forms. You can learn to write your name using brushes, try paper-cutting sophisticated images effortlessly, and discover the art of Chinese painting, and much more!
Where: Columbia & Keefer Street, Vancouver Chinatown When: August 5 & 6, 2006 12PM - 5PM
For more information please visit http://www.vcma.shawbiz.ca/cf/festival.html