5 Favorite Childhood Cartoons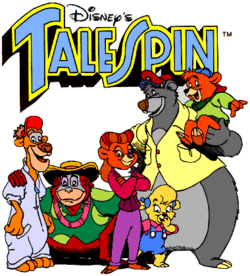 Ms. Danielle is giving away a 30GB Microsoft Zune that she won from John Chow. In her contest you have to talk about her new blog site and link to at lest one post.
I checked out her site and found a interesting post right away my-top-5-favorite-childhood-cartoons and I decided to write my own top five.
One more because I watched way too much television as a child.
TaleSpin - The Jungle Book charters delivering packages, a golden idea with 65 epps.
They just don't make cartoons like this any more. What are your top 5 favorite childhood cartoons? You only get to pick 5.