28th Annual Vancouver Pride Parade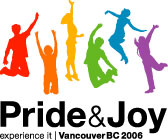 The Vancouver Pride Society & Vancity Present the 28th annual Vancouver Pride Parade starting at Denman and Robson Streets.
Join us in bringing together the dynamic people and cultures of the city! For the 28th year, we invite you to come out and celebrate the vibrant life and diversity of the Vancouver queer community, Vancouver's Pride & Joy.
Parade Route There will be a slight change in the parade route this year. The parade will start on Denman @ Robson Street, making its way down along Beach Avenue and then end at Pacific & Thurlow. With over 130 floats and 185,000 spectators, we proudly bring you the largest parade on this side of Canada!
Where: Denman @ Robson Street, When: (August 6) Noon - 2pm Who: Everyone
For more information please visit Vancouver pride webpage http://www.vancouverpride.ca/