2006 DESTINATION FUNNY SHORT FILM CONTEST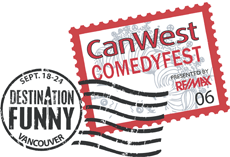 2006 DESTINATION FUNNY SHORT FILM CONTEST www.vancouvercomedyfest.com
The Vancouver Comedy Festival Society and Destination Funny Entertainment with the UBC Film Society are pleased to announce the first annual "DESTINATION FUNNY SHORTS" short film competition to coincide with the 2006 Canwest Comedyfest presented by RE/MAX. September 18-24th, 2006. www.destinationfunny.com. Nominated shorts films will be screened and judged at the event to be held Monday, September 18, 2006. Winners are announced at the end of the evening.
CONTEST SUBMISSION POLICY
Must be in DVD/broadcast ready
All submission must include a logline, synopsis and cast and crew list.
Films may be animation or live
Films must be between 3 and 15 minutes in length
Deadline for submissions : August 30, 2006 at 5PM
All submissions MUST be comedic in nature
THERE IS NO FEE.
PRIZES INCLUDE:
SPECIAL BEST FILM PRIZE (tba)
DESTINATION FUNNY SHORTS award.
Media Acknowledgement in the form of a press release from Destination Funny
Two 2006 Canwest Comedy Festival Passes
Two Tickets to the Opening Launch Party and passes to the after-hours private parties.
All nominated performers, directors, producers and writers will receive two tickets to the event. ALL NOMINATED FILMS WILL BE LISTED ON www.destinationfunny.com
Mail to: Destination Funny c/o FUNNY SHORTS 504-825 Granville Street, Vancouver, BC, Canada, V6Z 1K9 Direct queries to: [email protected]
ABOUT THE COMEDYFEST SOCIETY Vancouver International Comedy Festival Society brings awareness and funds to comedic performers and provides emerging local comics with the audiences needed to develop their skills. This non-profit society has been working for 20 years to fulfill its mandate; to commission and encourage innovative comedic talent in music, film, theatre, street performance and of course, stand-up.
ABOUT THE CANWEST COMEDYFEST PRESENTED BY RE/MAX The 2006 CanWest ComedyFest promises to be a spectacular six-day event, jam-packed with hilarious side-splitting performances. During the week the best in stand-up, improv and showcase comedy will descend on the west coast. Over 80,000 people have attended our shows over the past two years and we continue to make the CanWest ComedyFest a true jewel of the West Coast.